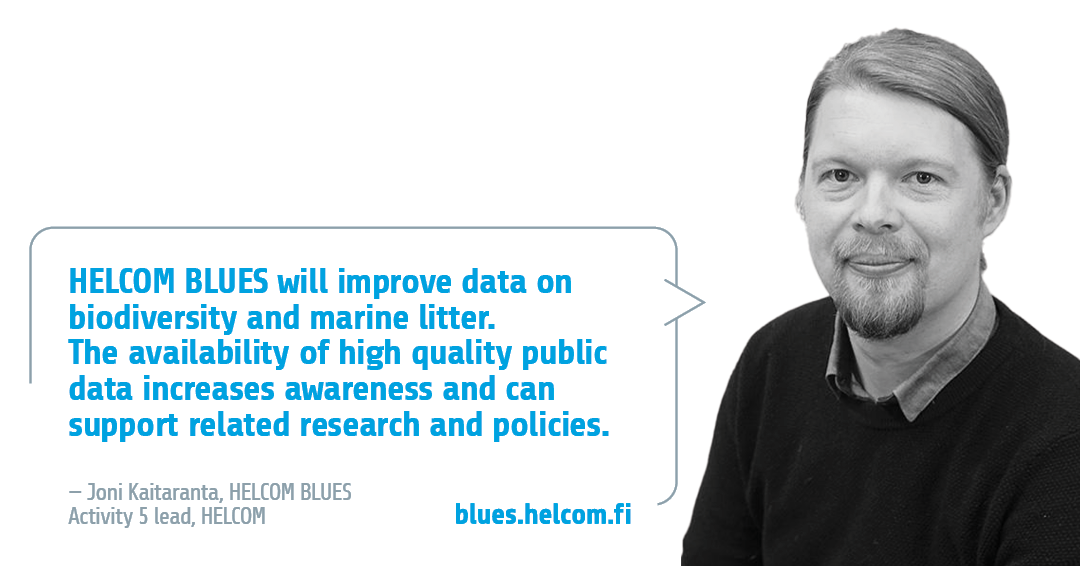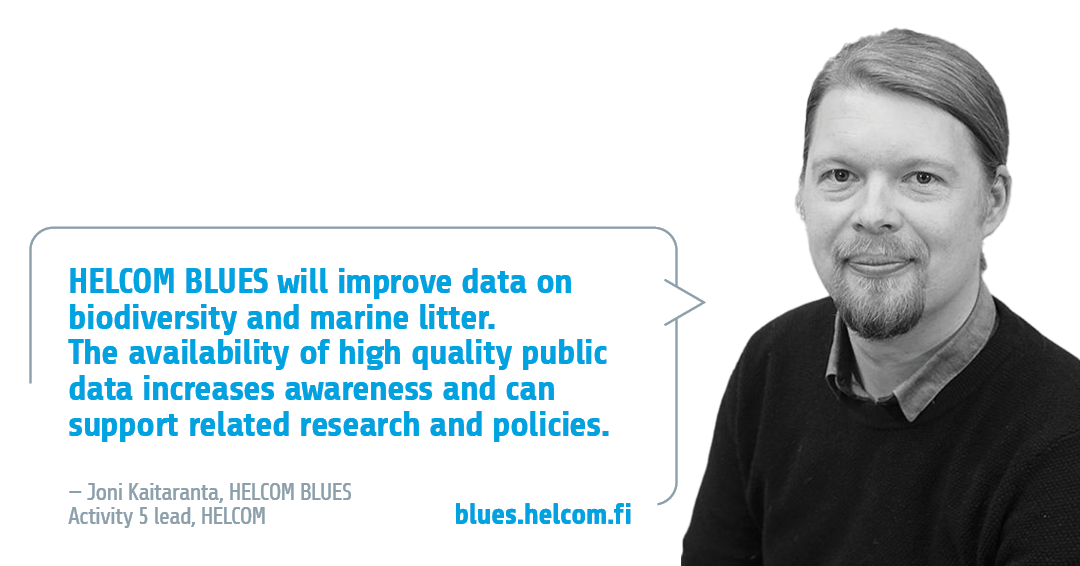 Joni Kaitaranta is working on HELCOM BLUES Activity 5 on Data accessibility. He is working as Data coordinator at HELCOM with focus on organizing data collection on various thematic data flows and overseeing development of HELCOM data portals and resources. In BLUES project, the focus is on collecting and harmonizing seal and bird count data to cater for HELCOM indicators and to be made publicly available via improved HELCOM Biodiversity database. Data accessibility work focuses also on obtaining up-to-date data products on fisheries intensity and effort as well as developing data flow for HELCOM Beach litter indicator. Joni holds a MSc in marine sciences with focus on aquatic sciences and geoinformatics.
What is Activity 5 all about? What main challenges does it try to solve?
Activity 5 is about improving data collection arrangements for a set of biodiversity indicators and marine litter. Currently these themes are either lacking proper reporting practice or infrastructure and this will be improved for the upcoming State of the Baltic Sea report (HELCOM HOLAS III) compared to previous assessment published in 2018.
What are the planned outcomes of the Activity 5?
Better availability of harmonized biodiversity data on mammals and birds, as well as procedure for processing litter data from raw data to assessment. A set of updated fisheries impact and density maps is also one of the outputs of Activity 5 and are important part of assessing cumulative impacts to marine environment.
How will Activity 5 benefit the protection of the marine environment of the Baltic Sea? Are there benefits for your organisation (HELCOM) as well?
Increased data availability improves the accuracy and evidence base for management measures. Availability of high quality public data increases awareness and can support related research and policies. For HELCOM Secretariat, the improvements carried out for databases and related automation increases quality of assessments and reduces need for time consuming manual data processing.