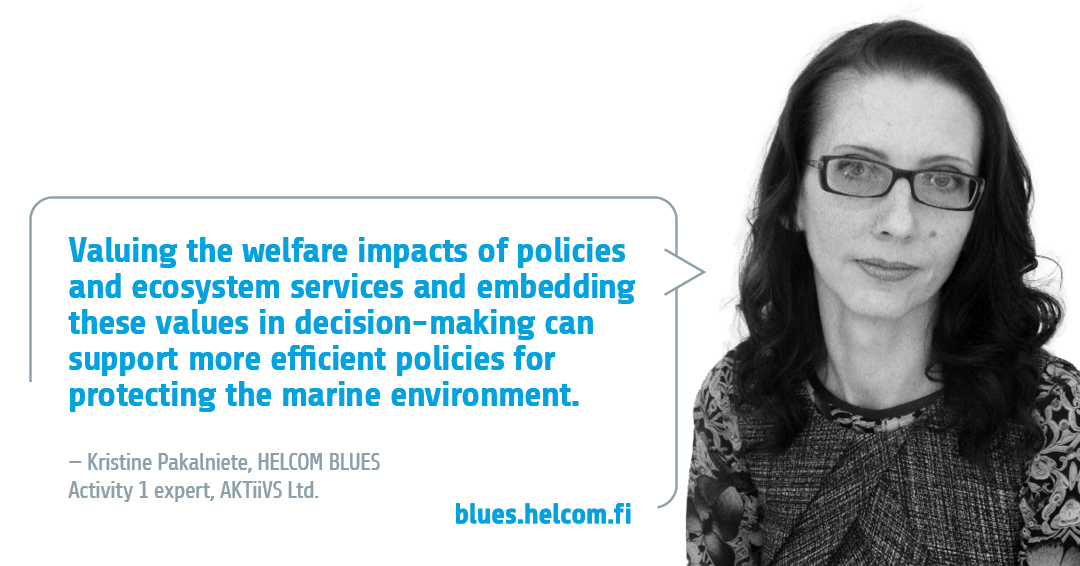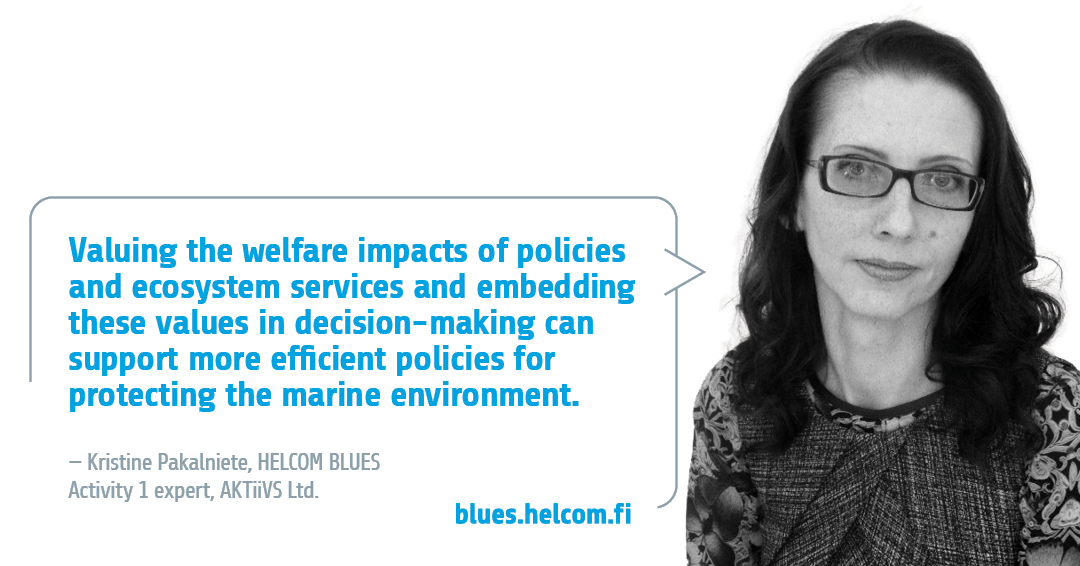 Kristine Pakalniete is an expert involved in Activity 1 on effectiveness and measures. She is a senior scientist and expert at the private research and consultancy company AKTiiVS Ltd., dealing with economic research and consultancy for water and biodiversity protection. Kristine has experience in developing economic and social analyses to support national and Baltic Sea region marine policies, among other, in economic and social analysis of the sea use, socioeconomic assessment of ecosystem services, policy scenarios and measures to improve the state of the marine environment.
What is your Activity/Task in HELCOM BLUES all about? What main challenges and/or pressures on the Baltic Sea does it try to solve?
The HELCOM BLUES Activity 1 supports the design and implementation of effective policies for reaching good state of the Baltic Sea environment. Activity 1 produces information on the effects, sufficiency, costs and benefits of measures for reducing pressures and protecting the marine environment. Such analysis accounts the links between human uses, the marine ecosystem and human well-being, and assesses the welfare impacts of protecting the marine ecosystem.
What are the planned outcomes of your specific BLUES Activity/Task?
Activity 1 will further develop the methodologies and assessments on the socioeconomic impacts of policy measures and on the value of protecting the marine environment. The work will improve knowledge base on effectiveness of measures towards achieving environmental targets and costs of these measures for affected actors. The results will improve also the socioeconomic assessments of the benefits derived from use of the sea and of improving state of the marine environment, including the benefits from marine ecosystem services.
How will your BLUES Activity/Task benefit your organization in particular and the Baltic Sea in general?
The BLUES Activity 1 work will further advance the use of economic and social analysis for policy support in the Baltic Sea region. We believe that valuing the welfare impacts of policies and ecosystem services and embedding these values in decision-making can support more efficient policies for protecting the marine environment. Therefore, such valuation is among the priority areas of the work of AKTiiVS. The improved methodologies and assessments provided by the project will benefit both the sea region and national policies for better protection of the Baltic Sea.